The Lithuanian retriever club held a speciality show on one of the most beautiful days of the year – mother's day. It is a great joy when shows bring families – grandmothers, current and future moms, dads, children, and many friends together. Here are some of the moments from that warm and beautiful mother's day celebration.
We would like to thank everyone that helped to organize the show! The club works toward to promoting retriever breeds, encouraging responsible breeding and we are very happy to see our circle expanding, attracting new members and friends!
We would also like to thank the ring stewards for their efficient work and the representatives of Eukanuba for decorating the ring and providing prizes for participants!
Diploma of the show and cover of the catalogue (Labrador retrievers from kennel "Okeanas Elite", photographer Virgilijus Bumbulis):
Show winners received numerous cups and rosettes. Every competitor got a description and a collar with a tassel of a colour specific to every evaluation.
Also top winning retrievers of 2011 were awarded statuettes and certificates of appreciation: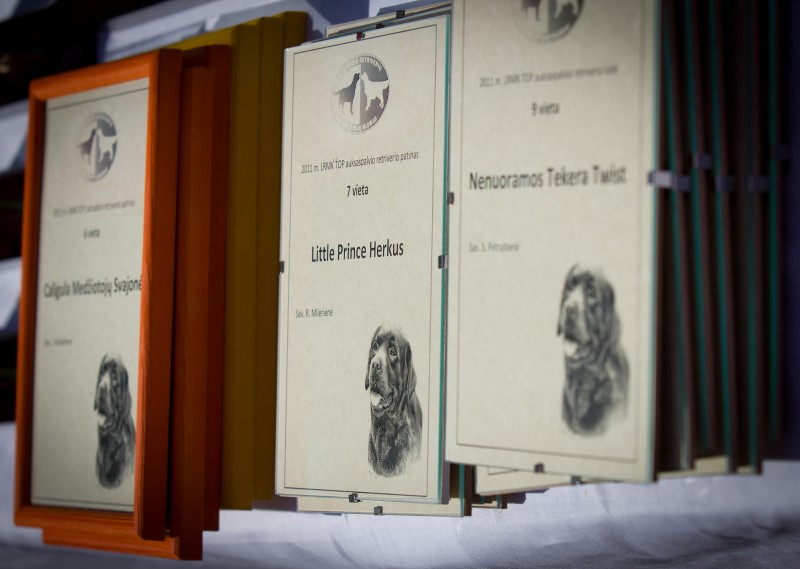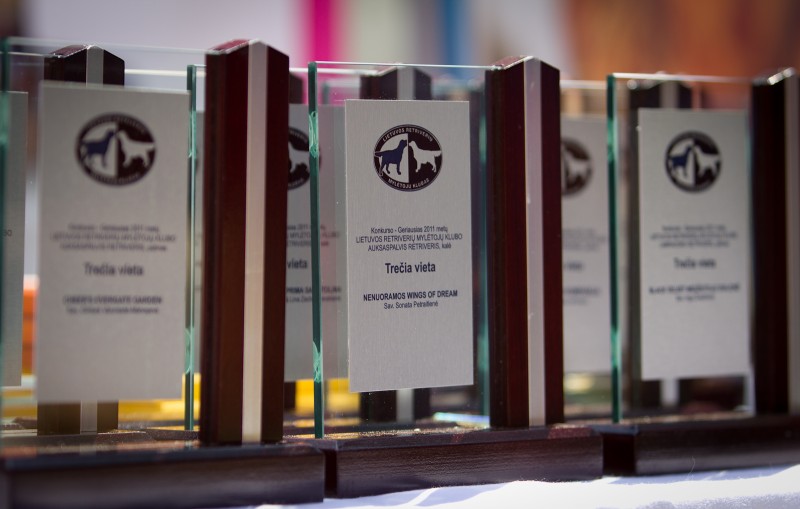 Some moments from the awards:
Judge of the show: Andrzej Stepinski, kennel Oligarchia
Detailed information about the show.
Group picture of the participants:
Breeder's group competition:
1 place – Labrador retrievers – kennel "Okeanas Elite"
2 place – golden retrievers – kennel "Mega Oskaras"
3 place – golden retrievers – kennel "Auksesija"
4 place – flat coated retrievers – kennel "Ant Bangos"
Results and photos (photos by Jonaistė Jusionytė):
Golden retrievers (males)
Baby class
Amato Elaiodoro (Cheer's Evergate Garden x Rhapsody tik Herkus) – very promising – 1/4, Baby BIS-1
Adriano Elaiodoro (Cheer's Evergate Garden x Rhapsody tik Herkus) – very promising – 2/4
Alessandro Elaiodoro (Cheer's Evergate Garden x Rhapsody tik Herkus) – very promising – 3/4
Niteo Fuksas Auksesija (Shanz Iz Sokolinogo Gnezda x Astraja Auksesija) – absent
Puppy class
Corti Aukso Smėlis (Majik All Hands On Deck x Nenuoramos Wings Of  Love) – very promising – 1/3, Puppy BIS-1
Bubo Bubo From Tolimanas (Gilija Guilty Gambler x Nenuoramos Summer Sunshine) – very promising – 2/3
Nenuoramos Last Samurai (Basic Blend v.d. Beerse Hoeve x Nenuoramos tekera Twist) -absent
Junior class
Spanish Kiss Titto Prima Santolina (Mad About You De Ria Vela x Donatella Di Santolina) – excellent – 1/3, Junior winner,  BIS-4 Junior
Intencja Mr. Jonathan (Cheer's Evergate Garden x Intencja Lukrecja) – excellent – 2/3
Kilimanjaro Mount Sidabrinė Lelija (Nenuoramos mr. Martin x Day By Lyderio Kodas) – excellent – 3/3
Intermediate class
Veni Vidi Vici Auksesija (Shans Iz Sokolinogo Gnezda x Tessa Berenikė) – very good
Open class
Nenuoramos My Marchello (Guess Nashville x Nenuoramos Yellow Jamaika) – excellent – 1/8, LT CAC
Imbieras Mega Oskaras (Sandusky Alain Prost x Ashbury Believe In Love) – excellent – 2/8
Little Prince Herkus (Stenbury Water Rebel x Erima Herkus) – excellent – 3/8
Cincinatti Made Prima Santolina (Ashbury Call Me Luis x Eleven's Didi By Prima Santolina) – excellent – 4/8
Crocus Made Prima Santolina (Ashbury Call Me Luis x Eleven's Didi By Prima Santolina) – excellent – 5/8
Shans Iz Sokolinogo Gnezda (Atrey Evidog x Evgenika Iz Stolitsy Urala) – excellent
Homer Simpson Mega Oskaras (Sheamus Of The Morning Valley x Cafe Au lait Oskaras) – very good
Nenuoramos Let It Shine (Gatchels Prodigal Son x Nenuoramos Toscana) – very good
Working class
Gilija Guilty Gambler (Jazzman's da Capo x Gutta Herkus) – excellent – 1/8, LT CAC, W (best male), BOB, BIS-2
Rogerwiek Lord Lancelot (Terra Antyda Sani Lancelot x Rogerwiek My Fair Lady) – very good
Champion class
Cheer's Evergate Garden (Hot-News Mallow Cream x Cheer's Crosswater Garden) – excellent – 1/3, LT CAC
SukkerStar Av Vervik (Dewmist Serrano x Sa Sot Av Vervik) – excellent – 2/3
Amigo Mundy La Freska (Dainty's Final Score x Nenuoramos Babbette) – excellent – 3/3
 Golden retrievers (females)
Baby class
Niteo Isabella Auksesija (Shanz Iz Sokolinogo Gnezda x Astraja Auksesija) – very promising – 1, Baby BIS-3
Puppy class
Zarra Tik Herkus (Cheer's Evergate Garden x Madam Mirage Herkus) – very promising – 1/2, Puppy BIS-2
Amber Drop Baltoji Sakura (SukkerStar Av Vevrik x Vivi) – promising
Junior class
Ashbury Fidgi Rose (Cheer's Evergate Garden x Ashbury Deep Temptation) – excellent – 1/3, Junior winner, Junior BIS-2
Amazing Montana Et Afaja (Goldfashion Keep The Faith x Enigma Music La Prima Santolina) – excellent – 2/3
Tramin Lambada (Tramin Magelan x Tramin Apple Juice) – excellent – 3/3
Intermediate class
Linksmoji Lota Basteta (Cactombe Cock A Doodle Doo x Panda Astra) – excellent – 1/3, LT CAC
Nenuoramos Allways Be Angel Dream (Ashbury Angel Heart x Nenuoramos Wings Of  Dream) – excellent – 2/3
Veni Vidi Vici Nesa Auksesija – excellent – 3/3
Open class
Hermione Granger Mega Oskaras (Sheamus of the Morning Valley x Cafe Au Lait Oskaras) – excellent – 1/7, LT CAC, W (best female)
Amy By Vėjalaukė (Ashbury Call Me Luis x Cherry Kiss By Lyderio Kodas) – excellent – 2/7
Idėja Mega Oskaras (Sandusky Alain Prost x Ashbury Believe In Love) – excellent – 3/7
Rosy Smile Aukso Smėlis (Nenuoramos Tonitto x Lauma Dorsa Selenė) – excellent – 4/7
Astraja Auksesija (Xanthos Ardulfe x Tessa Berenikė) – excellent – 5/7
Tulpė Medeinos Žiedas (Avezzano By Sakura x Kasandra Vilnoja) – excellent
Nenuoramos Wings Of Love (Kephles Keep In Touch x Nenuoramos tekera Twist) – absent
Champion class
Ashbury Believe In Love (Ashbury Angel Heart x Jako's Ashbury Jewel) – excellent – 1/4, LT CAC
Gutta Herkus (Guess Giacomo x Erima Herkus) – excellent – 2/4
Afroditė Auksesija (Xanthos Ardulfe x Tessa Berenikė) – puikai – 3/4
Madam Mirage Herkus (Cheer Superbalanced x Erima Herkus) – absent
Veteran class
Nenuoramos Babbette (Britanis Herkus x Cream Bonita Di Santolina) – excellent – 1, Veteran winner, BEST Veteran, Veteran BIS-3
Labrador retrievers (males)
Baby class
Black Jack Sielos Balzamas (Mallorn's Rogue's Gallery x Linjor Chocisserie) – very promising – 1/3
Benneton Sielos Balzamas (Mallorn's Rogue's Gallery x Linjor Chocisserie) – very promising – 2/3
Sky Okeanas Elite (Lab Treasure's Indeed x Jolli Okeanas) – very promising – 3/3
Puppy class
Berton (Mon Ami Kompanija x Albi Leily Medutis) – very promising – 1, Puppy BIS-3
Junior class
Orestes Gorska Fantazja (A'Blizard-For-Misty Dreams x Zsa Zsa Gorska Fantazja) – excellent – 1/3, Junior winner, BIS-3 Junior
Street Heaven Da Real Corte (Lejie Time Out x Jelie Cherry Pie) – excellent – 2/3
Onyx Gemstone Kompanija (Yunwu Shan Herbu Zadora x Madeira Kompanija) – excellent – 3/3
Intermediate class
Dream Medžiotojų Svajonė (Mauro Orso Kompanija x Galena Britanijos Angora) – excellent – 1/3, LT CAC
Noel Okeanas Elite (Lab Treasure's Indeed x Jolli Okeanas) – excellent – 2/3
Tukas Iš Anykščių (Geppetto Molto Bene x Zula Iš Anykščių) – excellent – 3/3
Open class
Rocheby Pop Larkin (Rocheby Suttonpark Travis x Rocheby Wild Snowdrop) – excellent – 1/4, LT CAC
Liquido Rio Kompanija (Rocheby Smokescreen x Kamena Kernel Kompanija)  – excellent – 2/4
Fine-Design of Tintagel Winds (Tam O'Shanter Of Tintagel Winds x All Things Bright and Beautiful of Tintagel Winds) – excellent – 3/4
Caligula Medžiotojų Svajonė (Arlon Hyspire Bohemian Ink x Kalipsso Kernel Kompanija) – excellent – 4/4
Champion class
Black Velvet Medžiotojų Svajonė (Devonshires To Russia With Love x Kalipsso Kernel Kompanija) – excellent – 1/3, LT CAC, W (best male)
Only For Me Balzamas (Stronglines Clown x Stenveyz Field Of Dream) – excellent – 2/3
Mon Ami Kompanija (Wit's Endwindfalflyn Ohyspire x Kamena Kernel Kompanija) – excellent – 3/3
Labrador retrievers (females)
Baby class
Leila Medeinė (Choicemaker's Gladiator x Dynastia Lady Medeinė) – very promising – 1/3
Barbecue Sielos Balzamas (Mallorn's Rodue's Gallery x Linjor Chocisserie) – very promising – 2/3
Sakura Okeanas Elite (Lab Treasure's Indeed x Jolli Okeanas) – very promising – 3/3
Puppy class
Bazuka (Mon Ami Kompanija x Albi Leily Medutis) – very promising – 1/3
Akella Mano Perlas (Mon Ami Kompanija x panther Iš Anykščių) – very promising – 2/3
Ups'a Kursk Inkų Šuo (Kurskas Beržoras x It's Marta Bellazaa) – very promising – 3/3
Junior class
Afera Mano Flagmanas (Rocheby Step Ahead x Glory Medeinė) – excellent – 1/3, Junior winner, BOB, Junior BIS-1, BIS-1
Lauminas Isabel (Only For Me Balzamas x Orlanda D'Grand) – excellent – 2/3
Vey Talie Tissa (Labry Berry Olimpic x Vey Talie Laurier) – absent
Intermediate class
Kalina Gorska Fantazja (A'Blizard-For-Misty-Dreams x Kate Moss Gorska Fantazja) – excellent – 1/3, LT CAC
Eclipse Šalta Nosis (Huckleberry Finn Gorska Fantazja x Amazing Amazing Of Tintagel Winds) – excellent – 2/3
Terra Lubinų Alėja (Choicmaker's Gladiator x Mėta Leily Medutis) – v. good
Open class
Malta Okeanas (Huntmor Bella Mare Most Wanted x Dipsi Atlantida Okeanas) – excellent – 1/7, LT CAC, W (best female)
Fleet Feet Of Tintagel Winds (Tam O'Shanter Of Tintagel Winds x User Friendly Of Tintagel Winds) – excellent – 2/7
Lucy Liu Okeanas (Grand Prix Gorska Fantazja x Gabi Okeanas) – excellent – 3/7
Kelly Taurakalnio Lobis – excellent – 4/7
Cleopatra From Trio Magija – excellent – 5/7
Albi Leily Medutis – excellent
Aphrodite Magic Imperata – excellent
Champion class
Sunnyday Sielos Balzamas (Gowanvale Balance x Stenveyz Field Of  Dream) – excellent – 1/3, LT CAC
Arėja Šalta Nosis (Saturday Night Fever x Golden De'Paoli Balzamas) – excellent – 2/3
Glory Medeinė (Jawor Herbu Zadora x Dynastia Lady Medeinė) – excellent – 3/3
Veteran class
Stenveyz Field Of Dream (Mallorn's Chocolate Czar x Mallorn's Ariel) – excellent – 1, Veteran winner, Veteran BIS-1
Flat coated retrievers (males)
Open class
Alko Ant Bangos (Whizzbang's Mexican Afterburn x Bagera Nemunas) – excellent – 1/2, LT CAC, W (best male)
Archie Ant Bangos (Whizzbang's Mexican Afterburn x Bagera Nemunas) – excellent – 2/2
Champion class
Brandy Nemunas (Flat Garden's Arthur XII x Starworkers Heart And Soul) – excellent – 1, LT CAC
Flat coated retrievers (females)
Junior class
Bella Ant Bangos (Brandy Nemunas x Gone With The Wind Mega Oskaras) – excellent – 1, Junior winner, Junior BIS-5
Open class
Brixia Nemunas (Flat Garden's Arthur XII x Starworkers Heart And Soul) – excellent – 1/2, CAC, W, BOB, BIS-3
Armani Ant Bangos (Whizzbang's Mexican Afterburn x Bagera Nemunas) – excellent – 2/2
Champion class
Bagera Nemunas (Flat Garden's Arthur XII x Starworkers Heart And Soul) – excellent – 1/2, LT CAC
Starworkers Heart And Soul (Almanza I Hate Mondays x Moontruck Jelly Baby) – excellent – 2/2
Veteran class
Moonstruck Lovely To Look At (Moonstruck Daredevil x Moonstruck Notorius) – excellent – 1, Veteran winner, Veteran BIS-2
Curly coated retrievers (females)
Open class
Curly Cottage Jezebell (Uved's Zibibbo x Cornerstones Chocolate Connection) – excellent – 1, LT CAC, W, BOB, BIS-4
Champion class
Leislend Betti Barklay (Besefolk Vicont Obrain x Dak's Hanter Koira For Bella Mafia) – excellent, LT CAC